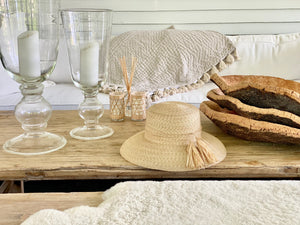 We are adding new finds everyday!
---
Home design made easy with our collections below!
---
Our Story
August Georges, originally geared to designers and architects and representing a curated collection of the finest manufacturers and textiles available in the industry, first opened it's doors in Georgetown in 1998. In a town beloved by Deborah, a designer with an entrepreneurial spirit, a love for design and a strong desire to create a lifestyle brand. (Just to share, August and Georges are the names of her grandfathers.) Deborah finds inspiration in Europe and the US with a special appreciation for the coastal communities. The opening was featured in Architectural Digest and the brand was born. Deborah (Debbie) then married Curtin (Curt), children were born, business founded, communities and schools supported, travel enjoyed, a world moving fast and life being lived. Things then took a turn in December of 2012, with the unexpected passing of their beloved Curt. Deborah and her two daughters, Eliza and Julia, thus began their next journey down the road of life. With the family continuing to reside in Georgetown, August Georges re-opened in the countryside of Virginia, a few blocks from the Inn at Little Washington. Four years later another monumental shift is made and August Georges finds it's permanent home in Tarboro, NC. A town with an amazing community self described as the center of western civization. ( Ask someone if they have been to or knows someone from Tarboro, you will be surprised!) Life continues to happen and the need to surround oneself with people, experiences and things that bring joy, becomes incredibly important. Deborah strives to find products that will make you feel good in your environment from that perfect salad bowl for entertaining a crowd to yummy cashmere throws or the chair you just don't want to leave. The August Georges of today.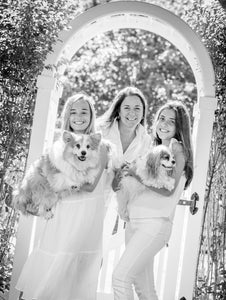 Deborah with her girls, Eliza and Julia, and doggies Biscuit and Pippa.
"Not a day goes by that these two don't bring joy and inspiration into my life."
Deborah Winsor

(photography by Susan Strawbridge)